Sunday evening, Karen and I took the girls to the Wicomico Youth and Civic Center (such a grand name) in Salisbury to see the new
Hometown Edition
of "The Greatest Show on Earth!" This is a one-ring version of the classic Ringling Brothers circus, scaled to smaller venues and designed to involve more of the audience in the experience.
This "Greatest Show" starts with a chance to meet and greet with the performers for an hour before the show actually starts.
This is a view across the one ring to the entrance/exit to backstage. The "orchestra" sits above, with several levels for the clowns and ring-master to play with.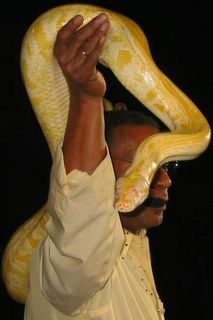 In this circus, the ringmaster was also a snake-handler and alligator wrangler. This is a baby snake -- a python? -- that he whipped out of a basket just by our seats. The folks two rows ahead of us immediately sprang from their seats and headed for the exit when this snake came out. Here, the snake calmly regards Christina, who had the aisle seat.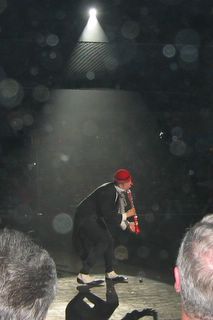 There were just a few clowns, but they were very talented. This fellow had a recurring musical theme and, at one point, brought a young girl out of the audience, dressed her in a red hat and tailcoat, and had her play along. No, I didn't get a good picture.
They made a great point of talking about the Ringling Bros. and Barnum & Bailey
Center for Elephant Conservation
. There were only two elephants in this circus, a few trained dogs and three or four horses. They seemed happy enough. There were protests earlier in the run, by local students concerned for the animal's well-being. We did not see any protestors on Sunday night.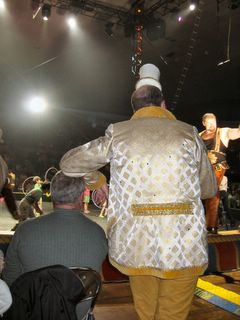 A good time was had by all.