Well. Here we are in the midst of
another winter storm
. At least this time the girls are over what turned out to be a full week of fever, coughing, stuffy noses and general malaise.
Unfortunately, mother nature has let us down in the snow department. We woke this morning to freezing rain and icy sleet. It's too ugly out for my usual digital camera offerings, so I decided to visit the Delaware Department of Transportation
traffic camera web page
and see what the weather looks like around the rest of the state.
Upstate, in New Castle County, winter looks the way it should.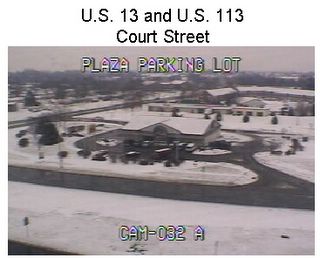 In Kent County, looks like they got a fair coating of new snow. It's hard to tell if it has stayed snow; this view rather suggests rain. That's the WaWa I often walk to for lunch, by the way.
Here in Sussex County, at least in the east, we see just freezing rain soaking into minor snowfall and a layer of sleet.
It is weather like this that brings up for us the notion of moving our lives to somewhere like Vermont.