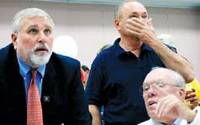 I love this photo. It is from the November 5 edition of the
Cape Gazette
. It shows Jud Bennett (left) and two supporters as the final results came in on election night. At that point, the count had him losing his bid to become a member of Sussex County Council by 12 votes.

Jud Bennett ran for Council from the district we live in, so we've been tracking this race. He's also a former Lewes City Councilman and someone I've dealt with some as a Planning Commissioner. He ran hard, stepping down from City Council and focusing all of his energy on the race. He made growth and planning for growth the main issues of his campaign. He's a Republican, but stayed away from the national and state-level issues of this campaign season, concentrating instead on what seems a major issue in this fast-growing area.
As of this morning, after two recounts, he is
three votes behind
and facing a decision whether to carry on in the legal realm or concede defeat. Even if he does concede, he can be proud. In Delaware, incumbents almost always win. To come this close against an entrenched and popular councilman is an accomplishment.
There were two other council races in Sussex County. In both of those, the incumbents won handily, but by margins that were closer than one would have expected. In all three races, the challengers spent a great deal of time talking about the need to better plan for growth. I think there is a message here that the Council needs to hear. And, while the voters chose not to turn them out of office, it was very close.