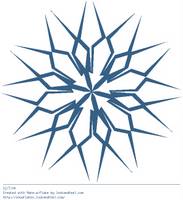 It's about 60 degrees outside this evening, but stormy and cooling down. I'm thinking about snow. Seems like a fine time to make a few snowflakes!
I made the flake at left (
Posted by Hello
) at the fine
Make-A-Flake
site by Lookandfeel New Media. That's also where I made the one posted on 12/5 (below), which I played around with in PaintShop as well.
I found that site through
MetaFilter
last winter. This year, I thought I'd poke around and see what other flake-maker sites are out there.
Snowflake Designer
is a nice little flash site that shows you the changes to the flake as you cut from or add to the folded "paper."
Snowflake
and
Snowflake II
are freeware Windows 32 applications provided by AM Software, a programmig outfit that appears to be in Russia. I'm not sure I want to download these, but there they are.
Make a snowflake pattern online
is a more scientific sort of site, but fun to play around with.
My favoriate of the crop I've found so far is
SnowDays
, by PopularFront. It is similar to Make-a-Flake, but with a cooler way to cut the flake paper.